Crochet:
I finally had a chance to upload my pics from Christmas of the Harry Potter House Scarves I made for my little cousins. Sadly, I didn't have enough time to finish sewing the tails in (there were 124 in total) for Christmas Eve, but was able to finish it for the munchkins in time for New Years Day. They were really excited and were jumping for joy at the sight of them! Glad my hard work paid off! They both asked for specific houses.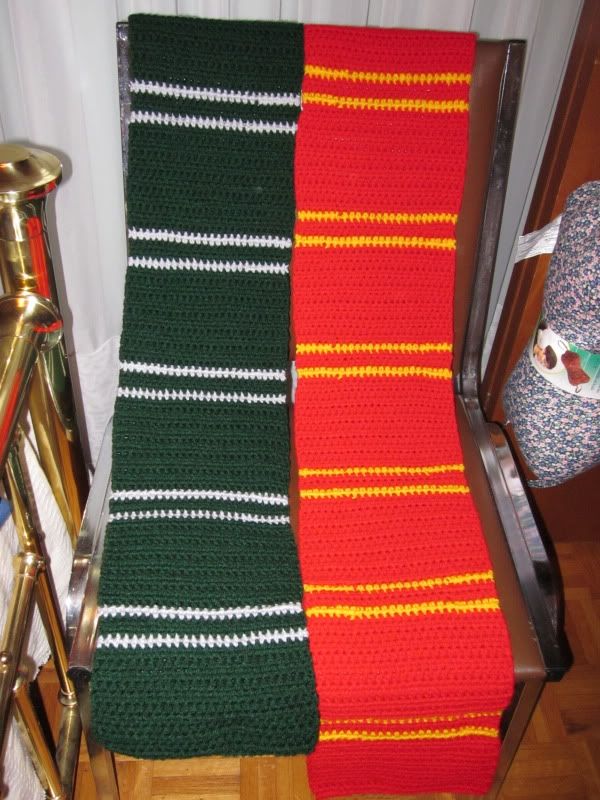 When asked why they chose their houses, the youngest said that Gryffindor was the best house because Harry Potter was in it and that it's the "good" house. The oldest said that she liked the colour green. Personally, I think the oldest didn't want to look like her little sister and what better way than to be in the opposite house. Silly monkeys!
Modeling the Slytherin Scarf

The yarn was really thick so instead of making it in single crochet (which would make it super thick and hard for the girls to move their heads), I decided to make it half-double crochet. Truthfully, I am falling in love with the hdc stitch.
I also designed the pattern myself. It wasn't that hard. I just looked up children's scarf lengths and got to it.
If you would like the pattern, I'd be happy to post it.
Cross Stitch:
As for my cross stitch project, I've picked up a Hogwart's School Crest from the Leaky Cauldron's craft website (Link:
here
). My boyfriend and I went to the local Michael's for the floss and they had every colour except one. Slightly put out, we left with all but that one thinking we'd go to another one on the weekend.
Instead of spending too much time looking for DMC's 415 Pearl Grey, I decided I could wait to go to my mother's house and steal from her stash. That was easier said then done.
First off, my mom hasn't taken out her supplies in about eleven years and so the supplies were packed away in the basement. Second, she just re-arranged the storage space and had no idea where the totes were. Third, after going through the entire basement storage space (and getting caught in many spider webs and many scrapes and missing many avalanche close calls) we ended up finding her supplies in the first tote we looked in. Thankfully she had the colour and also gave me a lot of her bulk canvas (yay saving money).
Week One - January 23 to January 30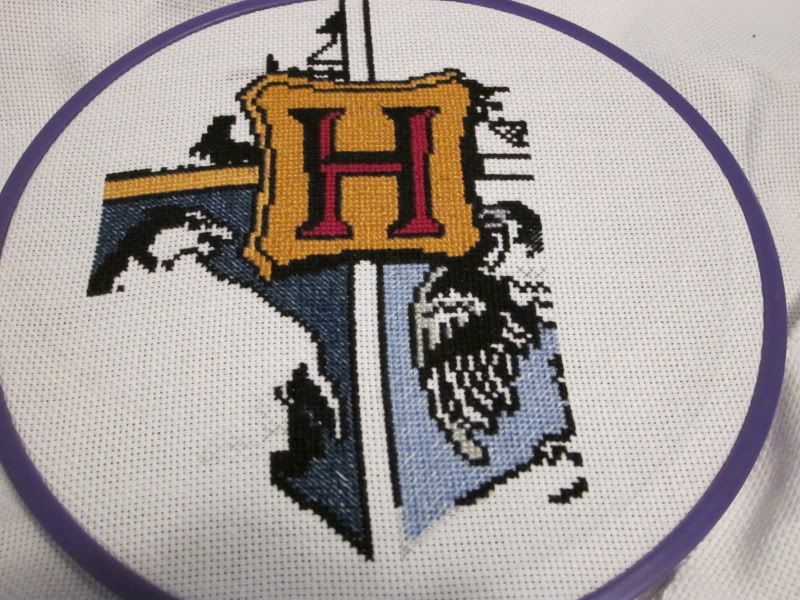 I have to admit, I haven't cross stitched anything since I was about fourteen. I've also messed up the pattern a few times already but I'm glad the mistakes aren't noticeable. What has helped a lot is that my mom came across a cross stitch stand for $2 at a garage sale. I've been wanting one for a while and have been saving up but since they cost about $60 it's taken me a while. Best thing is about this one is that it holds both the scroll style holders and the hoops. Thanks mom!
On Another Note:
Also, go check out
Totallee's crochet webpage
. She makes amazing work using a "crochet-by-numbers" technique. She's also a geek and loves Harry Potter. Check out her
Harry Potter Bunch blanket
. Beautiful work!
Until next week,
Nessa